MONDAY 8-19-19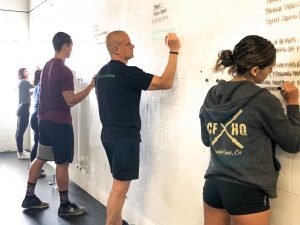 Our staff goes through coaches development bi weekly where we cover everything from teaching, seeing & correcting faults, group management, demonstration, and presence and attitude. Here our coaches are going over an often overlooked piece of the hour long class… The whiteboard discussion. This is where the stimulus of the workout, expectations, modifications, and questions need to be addressed to the members, setting the tone for the hour. 
For time
Row 1k
Then…
AMRAP 10 MIN
10 KB SWINGS (70#/53#)
20 BOX JUMPS (24″/20″)
30 DOUBLE UNDERS
INT / 55+ RX
SAME
THEN..
53#/35#
20″ STEP UPS
BEGINNER
SAME
THEN…
35#/26#
20″ STEP UP
30 SINGLE UNDERS