Tuesday 9-3-19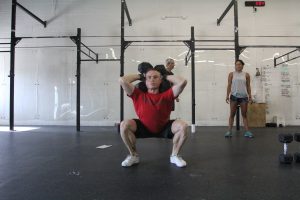 Every 3 Min X 15 Min
15 Thrusters + 5 BFB (95#/65#)
INT/ 55+ RX
75#/55#
Beginner
45#/35#
****Modify reps to something you can
do in under 45 seconds. Every round SHOULD NOT
be unbroken, but the first 3-5 round absolutely should.
Weight should not be the limiting factor. Fitness should
be…..
*****If you end up falling behind, lower weight until you
can complete the requested amount of work within the
3 minute window. For some this may mean 15 air squats
and 5 knee pushups every 3 minutes. That's FINE!
What's not fine is trying to go to heavy and not getting
the intent of the workout.